The 2021 Subaru Love Promise Community Commitment Award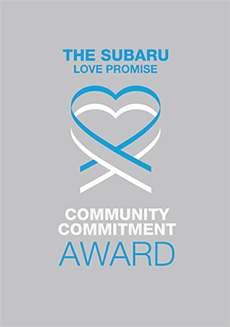 We've been nationally recognized for our dedication to our community and the Subaru Love Promise.
We're honored to receive the 2021 Subaru Love Promise Community Commitment Award. This award nationally recognizes Subaru retailers who are making the world a better place while demonstrating an outstanding commitment to supporting passions and causes in local communities. These efforts are focused in important areas such as the environment, community, health, education, and pets.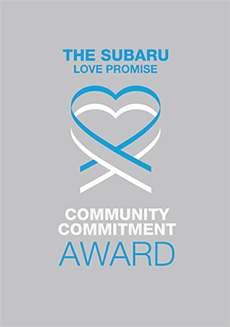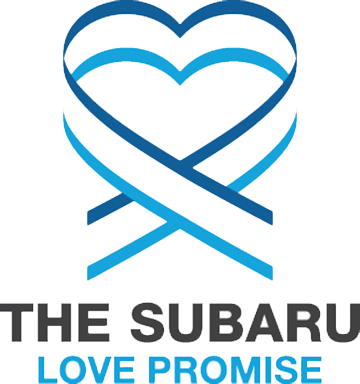 What is the Subaru Love Promise?
Subaru and our retailers believe in making the world a better place and the Subaru Love Promise is our vision of respecting all people. This is our commitment to show love and respect to our customers and to work to make a positive impact in the world.
How is Sheehy Subaru Hagerstown dedicated locally to the Love Promise?
At Sheehy Subaru, we believe in something more. We believe in being a positive force in something bigger. We believe in helping community. Not just bu our donations, but by our actions. We believe in setting an example for others to follow. We believe the relationships we build should last a lifetime. We will strive to ensure that love is felt not just by our customers, but by all. We do this because we feel it is the right thing to do.
Humane Society - Washington County
Williamsport Elementary School
CASA - Citizens assisting the Sheltered and Abused
Love Promise Stories from Sheehy Subaru Hagerstown
Subaru and Sheehy Subaru Hagerstown believe in making a positive impact on the communities in which we live and work. We uphold that belief through our Love Promise Community Commitment. Every month, we select inspiring stories from customers and partners from around our area who strive to support our collective commitment and feature them here
It takes a village! - Maureen G
Girls Inc. is an after-school program for girls ages 6-18 years old. When the pandemic hit, Girls Inc. transitioned from after school programming to all day programming to accommodate working parents and to meet the needs of our girls by assisting with distance learning. Thanks to Sheehy Subaru of Hagerstown's generous donation, we were able to purchase individual, STEM activities and therapeutic manipulatives for hands on learning for each girl we serve. In addition, girls will receive their own personal journal and a book to keep by their favorite author. Heartfelt thank you to Sheehy for helping us empower girls with knowledge and confidence to become future leaders and change agents. Thank you for being in her corner……and inspiring girls to be Strong Smart and Bold
---
Generous donations of blankets - Dana J
REACH of Washington County's mission is to prevent and resolve homelessness in Washington County. Our largest program is our Cold Weather Shelter. Recently, Sheehy made a generous donation of fleece blankets to our organization. These blankets came in handy for our shelter as well as giving them to residents to use during the day. We are thankful for Sheehy's generosity in helping support the homeless in our community.
---
Sheehy Subaru Helps Animals Find Loving Homes - Anna S
This fall, Sheehy Subaru of Hagerstown partnered with the Humane Society of Washington County (HSWC) for their annual Subaru Loves Pets Adoption Event. The dealership hosted cats and dogs from the shelter seeking forever homes and the community was invited to attend and potentially bring home a new furry friend. Thanks to the generosity of Sheehy Subaru of Hagerstown and the ASPCA, 16 cats and 7 dogs found loving homes through this wonderful event. HSWC is so grateful for our partnership with Sheehy Subaru of Hagerstown and thanks them for being such an integral part of creating positive outcomes for more animals in our community!
---
Sheehy Subaru Helps Animals Find Forever Homes - Noel F
Last November, Sheehy Subaru of Hagerstown partnered with the Humane Society of Washington County (HSWC) to host a special "Share the Love" Adoption Event. Cats and dogs seeking loving homes were brought to the dealership and interested adopters were encouraged to visit and see if they could find their perfect match! Numerous animals found wonderful families to begin their new lives with that day, and the adoption event was a great success thanks to the wonderful support from both the ASPCA and our friends at Sheehy Subaru of Hagerstown. This adoption day kicked off Sheehy Subaru of Hagerstown's Share the Love Event and HSWC was fortunate enough to be named the Hometown Charity! As a result of this, Subaru of America, Inc. donated $7,950.51 to HSWC and Sheehy Subaru of Hagerstown made an additional contribution of $6,200 (for a total donation amount of $14,150.51!!!). We are absolutely thrilled with the incredible generosity of Sheehy Subaru of Hagerstown! The donation helps to equip HSWC with the resources we need to care for the thousands of animals that arrive in our shelter each year. Much like the adoption event at the dealership, this gift ultimately helps animals find the loving forever homes that they deserve. We are so grateful for our relationship with Sheehy Subaru of Hagerstown and thank them for being our partner in saving lives!
---
Sheehy of Hagerstown brings reading to life - RHONDA S
General Manager at Sheehy Subaru of Hagerstown delivered 150 books to Williamsport Elementary School in Williamsport MD in October as part of Subaru's Love Promise Initiative. "Being a part of Washington Counties Community is who we are is what we do. Supporting our community around us helps everyone." Says Anthony. He also stated that having the ability to delivery books and see the faces of the teachers and children brought light into his eyes. Williamsport Elementary School is one of many Magnet programs in Washington County Md. A Magnet Program is a highly competitive gifted and talented programs for identified gifted and talented students. These advanced programs that are designed for the most highly gifted students in the county. Students must be invited to apply to elementary and middle school magnet programs. Sheehy Auto Stores recently acquired Sharrett Subaru in September 2019.
---